Awards


Famous Software Award & Editor's Pick - FamousWhy
5 Stars - EuroDownload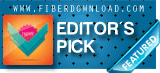 Editor's Pick & 5 Stars - FiberDownload
Editor's Pick - DownloadRoute
5 Stars - Download 3000

User Choice on FDM
5 Stars on
Best Vista Downloads
5 stars
on FreeDownloadsPlace
5 stars
on Soft32download
5 stars
on FileGuru
BrotherSoft
Editor's Pick
Editor's Pick - WareSeeker
---

Aurora Borealis was fully tested by TopShareware Labs. It does not contain any kind of malware, adware and viruses.
"Aurora Borealis" is a well-known checkers database program with a built-in playing module that is incredibly convenient and easy to use. Over ten years of development has made this program useful and easy to understand for both experienced and inexperienced players.

Today using multi-draughts version of "Aurora Borealis professional 3.0" you can work with 12 draughts variations (English, Italian, Russian, Brasilian, Czech, American pool, Spanish, Thai, International, Frisian, Spantsireti and Canadian), play with advanced computer partner, analyse, easily comment games and create your own games databases!

Read about the advantages of "Aurora Borealis professional". You may also download full version with databases right now and register the program!


---

July, 24 2014



A new update is available. Version 3.5 beta 7 for 64-bit Windows. Fixed: fonts for game and database panels; engine plays better using WDL endgame databases; users can edit engine's parameters. At this time user guide available only in Russian, you can try to use for example translate.google.com service to translate it.

Engine guide

Download page


---

June, 11 2014



Special summer offer for new users: 35% off for disks kit (now only 70 EUR), 66% off for a single-computer activation key (now only 15 EUR) during summer 2014. You can also pick a TrialPay offer and get an activation key for free.

Order Aurora Borealis professional now!


---

January, 2 2014



A new update is available. Version 3.0.26 for 32-bit Windows has the only change - a support of new Windows 8.1 R2. Version 3.5 beta 5 for 64-bit Windows also has Win8.1R2 support and some implementations, as database functions, multiple GIF export, play levels.

Download page


---

November, 19 2013



Full endgame databases on HDD are available for Aurora users. 1TB external USB3 HDD with all available full endgame databases (incl. 8pc International, 10 pc Russian and Brasilian) will be 100 EUR, including worldwide shipping. If you would like to order HDD together with Aurora Borealis CD+DVD kit, a HDD will be 60 EUR extra. I.e., CD+DVD+permanent key+HDD+shipping = 155 EUR.

Last 50 disks for resellers are still available on ebay in 2 lots. As a bonus buyers will choose next endgame databases to be computed.

Auction Page

Also, for each retail order placed in November-December I'll send 2 pcs of disks or keys (buy one - get two, one additional for free).


---

August, 14 2013



10 pieces endgame database for Brasilian game has been finished. All details about distribution will be available on Brasilian confederation website. http://www.topdam.com.br

Aurora Borealis 3.5 beta 3 is available for testing. Please note this is a testing-only version, you should install it into the same directory as your 3.0 version, you will have both versions. Available only for 64-bit Windows at this moment (will not run under 32 bit!).

Download version 3.5 beta 3


---

May, 19 2013



On download page you can download a part of 10-pieces WDL endgame database for Russian game.


---

March, 7 2013



8-pieces WDL endgame database for International draughts has been finished. Its full size (2 through 8 pieces) is 142 Gb. I'm thinking on the ways of distribution, at this time men-only pa(4x4 and 5x3, 757 mb compressed) is available on download page in torrents.


---

February, 22 2013



Update 3.0.24 is available in download section.

Fixed some bugs and improved large endgame database access.

Full DVD ISO with the latest version is also available.


---

February, 12 2013



Full 9-pieces endgame database for Italian game is available for download in torrents.



---

January, 28 2013



Part 4x4 of 8-pieces endgame database for International draughts has been finished, a part of men only is avalable on download page in torrents. In about 2 months part 5x3 is going to be finished and full database will be available.



---

January, 13 2013



On download page there is an 3.0.23 update available.

- Fixed large endgame database access ("Exception in Analysis" message)
- Fixed Draughts-80 (Spantsiretti) capture moves issue
- Removed names autocoplete feature in GameInfo and Search. You'll need to use drop button to check if there are similar names, if needed
- HTML support improved
- Setup New Position button on main form
- Delete button on then main form allows the current game in opened database to be marked as removed
- Database window - View initial position mode
- Database windows - added position checkbox in search dublicates
- Added torrent downloads (DVD ISOs) with 9 pieces endgame databases for Pool and Spanish games.



---

December, 7 2012



There is an 3.0.22 update available.

- Fixed some Pool export issues
- Added composer notation (extra-short) editing mode



---

October, 8 2012



On download page There is a version 3.0.20 update available and an ISO with 9-pieces endgame database for Russian game.

- Fixed the problem with switching to Canadian draughts
- American Pool renamed to Pool, added some options to unify all Pool variation (board flipping, chess notation, white to move first)
- Added extra short notation option
- Optimized access to large (8,9 pieces) endgame databases



---

June, 19 2012



On download page There is a version 3.0.17 update available.

Small bugs fixed and new "Transliterate strings" database function. You can use it if you have games with Russian names to convert all cyrillic names to latin transliteration.

You can also download updated databases, fixed Italian endgames and fixed the problem in International draughts book. Full DVD ISO installation is available in torrents.



---

June, 11 2012



On download page updated Torrent-link to fixed Italian endgame databases.



---

May, 13 2012



Update 3.0.16 for download. Bugfix: Saving game with a lot of comments may cause loss of data. Import from 2.x games databases may not copy all variations from game, if there are a lot of comments. This does not affect database integrity, but some data may be lost during import or save process. It is highly recommended to update the program and re-import all old databases.



---

May, 9 2012



Visit download page to get Torrent-links on WDL7 databases for International draughts and Full DVD ISO with the installation of program and all databases.



---

May, 7 2012



Version 3.0.15 is available for download
Fixed an issue with 2.x databases import ("Create a new database" message) and some small endgame database issues.


Endgame databases have been finished, the torrent-links were added to download page for Czech, English, Spanish, Thai and also MTW 6 pieces International. I'm going to add International 7 pieces WDL database in next few days.


---
April, 30 2012
Version 3.0.14 is available for download

To install it you need to have already activated 3.0 version, or a genuine Aurora Borealis CD ver 2.9 or 3.0

Added support for new endgame databases. The installer already has small 5-pieces endgame databases for all supported games (except frisian and canadian). Larger endgame databases are available or going to be available in 2 weeks on download page via torrents. For large endgame databases I highly recommend 2GB of RAM minimun, or 512MB RAM with SSD drive

Automatic export to draughtsworld.com is added. You can export your diagrams and games directly to website and get a link to post it anywhere (Coach-Export diagram-DraughtsWorld.com and Game-Export-HTML-DraughtsWorld.com). After game expoer the page will open in your default browser and clipboard will contain iframe-tag ready to be posted in forums

Self-teaching engine is finally finished. It is very effective when the program is used intensively together with large endgame databases. All data is stored to Learn folre, you can set the amount memory you allow to use in engine settings. You may leave it default 64mb and increase as soon as all the memory is used.

New games database format, it allows:

position comments without any moves (comment to 'zero move')

Warning! New database format in incompatible to 2.x versions and earlier 3.0 betas. Databases will be automatically converted to new ones as soon as you open them. Reserve copy will be left with ".old" extension added.

Download link: http://aurora.shashki.com/download/winaur3014.exe


---
July, 3 2011
Version 3.0 beta 7 is available for testing.

This version is still fully compatible with 2.11 version (databases etc.) but it is recommended to install it to a different directory (Aurora Borealis 3 by default) to prevent any compatibility problems in future, if you wish to use both 2nd and 3rd versions. Please note that you have to manually copy endgame databases to the new folder from the previous.

Fixed some problems, added some users-requred tools and self-teaching engine.


---
November, 30 2010
Version 3.0 beta 6 is available for testing.

Updates: Fixed some problems running under Windows 7; improved engine for 64 games (Russian, Brasilian, Pool).

Dear users with @yahoo.com and some @___.nl and others domains. I receive your emails, but cannot answer due to spam filter on your servers. If you don't get an answer within a day there might be a problem with your e-mail box. Please check your spam filters, both local and server sides, and ensure they don't block emails from my address. Do not hesitate to contact me in Skype (crat82) if you don't receive a responce by e-mail.


---
October, 28 2010
Version 3.0 beta 5 is available for testing.

Major updates: improved database error detection (damaged games/headers), new functions are able to detect and recover most of database problems; probably improved evaluation functions and search speed for both 64 and 100 games.


---

August, 3 2010



License agreement updated: Activation keys may be used repeatedly for another activations four months after the previous one, allowing reinstallation and moving software to another computer.



Version 3.0 beta 2 is available for testing.




---
February, 21 2010
Version 3.0 beta 1 is available for testing. Contact email: aurorab@bk.ru for details and download link if you wish to test.


---
© Alexander Svirin, 2014, aurorab@bk.ru